What I Ate in NYC as a Vegan
What I Ate in NYC as a Vegan
New York, New York, I take my hat off to you. You are home to some of the most creative artists, craziest zanies, loudest natteres, fluffiest dogs, dirtiest pavements, brightest lights, busiest roads, biggest coffee cups and yummiest doughnuts. There is so much. There is too much. It's glorious, disgusting, liberating and scary. New York, you have it all, and you hold it all together. Miraculously.
I arrived in NYC for my sister's graduation. My brave, younger sister came to the city knowing no one over three and a half years ago, and has emerged the other side knowing all the cool places to eat, drink and party.
But my stomach is unfortunately not a bottomless pit, and there are only so many hours in the day, so it's just impossible to try all of the vegan restaurants, cafes, grocers, pop up stores, food trucks and retail products! New York, why do you torture me so?!
So much to eat, so little time.
NYC is considered to be one of the friendliest vegan cities in the world, alongside Portland, Berlin, Tel Aviv, Melbourne and Chiang Mai, and with over 8.5 million people living in the city every day, it's no surprise that there is a plethora of vegan-friendly options out there. From dedicated matcha bars, to vegan-only apparel stores, to super high-end vegan Asian restaurants, and to a combined techno club and vegan restaurant (I'm looking at you Black Flamingo), the city has it all.
I only had five days in the city, but managed to check out quite a few places during my short, whirlwind of a stay. If you ever find yourself in the crazy concrete jungle of New York City, be sure to check out the following vegan spots (I have put them in alphabetical order because sometimes a bit of systematic order amongst the NYC chaos is comforting):
PS: This is not my first time visiting the city, so I will also mention some old favourites too.
When I found out I was going to be in New York City at the same time that the NYC Veg Food Fest was happening, I couldn't believe my luck (or maybe I planned to go there and use my sister's graduation as an excuse ;) !). With cooking demos and speakers such as Dominick Thompson (Vegan Athlete), Gene Baur (Farm Sanctuary), Brian Shapiro (The Humane Society of the United States), Yovana Mendoza (Rawvana) and John Oppermann (Executive Director of Earth Day Initiative), there were a range of topics to be explored and opportunities to network, and of course, many food and drink tasters - the most important part right?!
I got to try a delicious spicy cauliflower and almond ricotta pizza slice from the hottest pizza joint in Brooklyn, Screamers Pizza; eight varieties of macaroons from Sweet Maresa's (FYI, the chocolate and peanut butter brownie macaroon is the best); soft and sweet cupcakes from Mo'Pweeze Bakery; and Rebbl's Reishi Mushroom Cold Brew - which was interesting to say the least! I also got to try a delicious wiener from Yeah Dawg!!!, tofu nuggets from Hodo Soy, energising juice shots from the ShotCo, a selection of Amrita superfood and protein bars (their Choc Chip Coconut protein bar is a must-try and my new favourite post-workout snack!), and some mint chocolate biscuit thing that wasn't that great. I guess vegan food can't win all the time #realitycheck :(
In and amongst all of the eating, there were some hilarious apparel from Vegetable Slut Apparel and timeless classics from Unicorn Goods and Will's Vegan Shoes. And of course, Mercy for Animals, PETA, Compassion Over Killing and various other animal rescue sanctuaries were present. A full house indeed!
I was told that my sister booked over a month in advance for this place, so it was a much anticipated trip into Union Square, with high expectations from the whole family. The wait did not disappoint. Having only opened in Feb of this year, abcV ("V" standing for "vegetables") is the third restaurant from Jean-Georges Vongerichten and Paulette Cole, after first being announced in 2013. With its 90% vegan and 10% vegetarian menu, abcV is possibly the most hyped plant-based restaurant right now.
The interior is a breath of fresh of air thanks to the delicate and all white furniture spaciously placed in the space and the see-through kitchen in which tattooed and dreaded chefs work and soft smiled waitresses flutter in and out. Pops of colour come into play with gorgeous table flowers, artisanal ceramic plates, chandeliers juxtaposed with pink neon wall panels and little buddhas and other south east Asian-style trinkets dotted around the restaurant.
The food menu is divided into "Light and Fresh" and "Warm and Hot" while the drinks menu has a section called "Restorative Tonics", with items described as "Joy", "Brain", "Grounding", "Heart" and "Spirit. I chose the Brain which includes brahmi, gotu, kola, kale, spinach, ginger and lime (my brain hurt reading that) while my sister tried the Grounding (ashwagandha, Brazilian ginseng, horsetail, pau d'arco, bartlett pear, green apple and agave). As you can tell, it's not all rabbit food here. The menus also arrive with an insert chart detailing the health benefits of various fruits, veggies and herbs.
All ABC restaurants have the same approach: fresh ingredients always, and abcV is no different. The meals are hyper fresh, bold in taste, dynamic in texture and challenges any eye-rolling veg-defier to change the way they think about plants.
The green pea chickpea hummus served with warm pita has just enough chunk and just enough creaminess to keep us coming back for more carb-dunking, while the earthy, sweet carrots, that lay upon an unexpected pool of thick almond butter was a real delight. A whole roasted cauliflower, scattered with pomegranate jewels and a bright yellow turmeric-tahini sauce dominated the table. For my main, I had the tasty, umami-flavoured wild mushroom burdock noodles with marinated tempeh and pickles which was fun to eat with chopsticks. For dessert, we had their bright green matcha cCrème brûlée and the chocolate mousse that was topped with peppermint coconut cream and had hidden surprises of chocolate chunks below. I polished off most of it.
Dark, dingy and trendy. If that sounds like a restaurant in Williamsburg, Brooklyn, you're right. Bozu Sushi is an almost missable, hole-in-the-wall Japanese sushi and tapas restaurant serving well-priced and well-made Asian cuisine. While not fully vegan, they have a vegan and gluten free menu, so be sure to ask for that. If you can, try get a seat in the front section of the restaurant rather than in the separate back section. Trendy in the front, dingy in the back (a metaphor for New York City perhaps?).
Try their Guacamole Sushi Roll (guac, mixed vegetables & a spicy sour sauce), the Mushroom Sushi Roll (cooked mushroom with a sweet soy sauce) and their Fried Brussel Sprouts Party Bomb with Japanese curry spice. They weren't lying when they said it was the bomb.
With lines teaming out the front door everyday, Cha Cha Matcha is leading New York's crazy current matcha trend. Almost all coffee shops in the city now offer matcha, but Cha Cha Matcha is solely about serving the finely milled Japanese green tea leaves. While you can get a traditional matcha tea, other exciting items on the menu include coconut matcha lattes, matcha desserts (not all vegan) and iced matcha teas. I tried their Golden Milk Matcha Latte with hemp milk which combines matcha, turmeric and other warming spices together, while my sister had their famous Divine Drink: A milkshake-like colourful shake filled with spirulina, blue algae, turmeric, beetroot powder and ginger, blended with almond, coconut and hemp milk! I bet that's what unicorns drink!
And their beverages are just as exciting and memorable as the store design. Their branding is on point and no detail has been overlooked. From the pink Cha Cha–printed palm tree wallpaper, to the Thank You So Matcha cups, and to the Matcha Gracias neon pink sign that sits upon a wall lined with dark green fake grass, you can safely guarantee everyone carefully snaps a photo of their drink.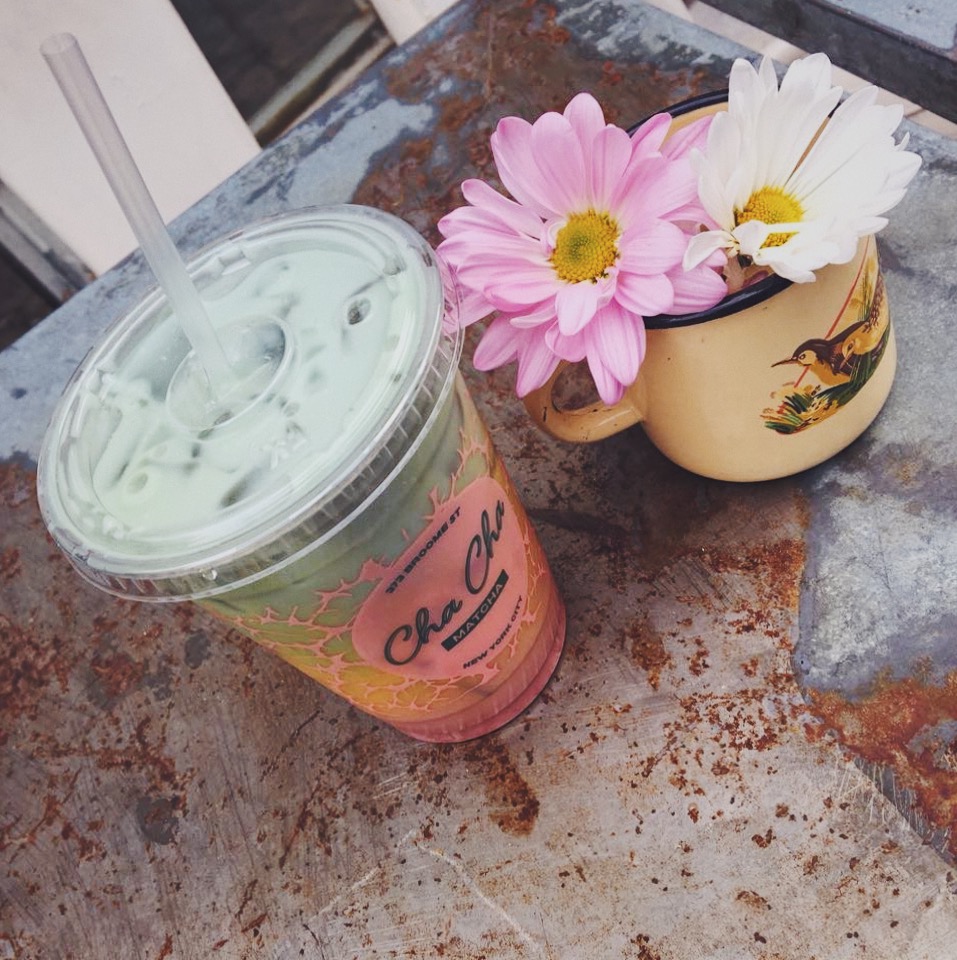 introducing your new milkshake
I have a raging sweet tooth. Sometimes I think my blood runs silky, smooth brown liquid. So when I heard about Cocoa V, a fully vegan chocolate and confections kitchen, I couldn't not pay them a visit. With the flagship location based in Chelsea, everything is made on-site by a small team of productive and passionate people. Never will there be the chance of the all too commonly seen text "produced in a facility that also processes dairy and eggs" on any of their labels or information packets as everything is so hands-on.
With exposed brick walls, dark wooden furniture, diamond-shaped mirrors, antique clocks, and telephones and bunches of soft-coloured bouquets, Cocoa V is a little (chocolate) slice of heaven. Chocolate bars, truffles, cakes and iced chocolate coffee are just some of the items on the menu. Stand outs include the Lavender and Vanilla Truffles, their S'mores Chocolate Bar, the Classic Chocolate Chip Cookie, the Oatmeal-Cranberry-Pumpkin-Seed-Choc Chip Cookie, and their Coconut Almond Bark.
This place has my heart. My sister and I trekked through the unrelenting rain into Chinatown to a restaurant I apparently "just had to check out". While I was slightly apprehensive walking amongst bustling crowds on pavements scattered with soggy cardboard boxes and imported Asian fruit, all preconceptions disappeared when we arrived at the front door.
Stepping into The Good Sort, one is immediately able to exhale a sigh of relief. With dusty pink wooden walls, pastel printed pillows, happy golden Maneki-neko, an abundance of pink and red roses, delicate Asian-style floral cutlery, and The National playing on record, it feels almost out of place amongst the blinding neon lights, gadget stores, hair salons and dumpling and rice restaurants nearby.
The drinks menu is ordered by colour so between the two of us, we had the Blue algae-based and the Black Charcoal Signature Lattes. To eat, I had their Turmeric Congee Bowl which was made with turmeric spice, coconut cream, poached cranberries, dried strawberries and lemon zest, while my sister had the Breakfast Congee Bowl. I will not be forgetting that Turmeric Congee anytime soon. It was absolutely delicious! I'll make the mission in rain or shine just for that again!
Orchard Grocer, also located in Chinatown, is what they describe as a "haven for compassionate convenience". While they have delicious sandwiches and desserts that one can order, what was more exciting for me were all of the retail products on sale! Like Veganz in Berlin, every single item on the shelves and in the fridge is 100% vegan so one doesn't have to bother with double-checking the ingredients lists! My sister and I bought a few items to share and try out including toona (aka "tuna" made from mainly pea protein), BBQ jackfruit, vanilla espresso almond butter, aged cashew cheese with reishi mushroom, veggie snack sausage, and date paste. Other exciting items on sale included mac and cheese, sour worms, marshmallows, tofu feta, blue cheese, vegan eggs, dips, sauces and spices.
Next to Orchard Grocer resides MooShoes, an apparel store that stocks cruelty-free footwear, bags, t-shirts, wallets, books and other accessories from brands such as BeetxBeet and Matt & Nat. They are a home to a slew of rescued cats, adopted from various local organisations - my sister and I found a rather chilled black and white feline lying about on the faux leather chairs!
Other notable mentions from previous visits:
Avant Garden - for high-end, gourmet, vegan cuisine
Beyond Sushi - for creative vegan sushi, rice paper rolls and bowls (their enoki mushroom roll is great)
By Chloe - for burgers and fries, mac and cheese and ice cream
Blossom - for a selection of delicious, filling buddha-style bowls (try one of theirs or make your own)
Candles 79 - for fancy vegan meals (the chocolate brownie is to die for)
Fika - for great coffee and matcha
Franchia - for vegan Asian-fusion
Hangawi - for high-end, trendy Asian meals (this is still one of my most memorable restaurants I've ever visited)
The Juice Shop - for juices, smoothies and acai bowls (try their Coco Kale acai bowl)
Liquiteria - for on-the-go snacks and juices (try their choc-chip oatmeal balls and grasshopper juice)
Peacefood Cafe - for their chickpea fritters and so much more (this place is a must-go)
The Matcha Bar - for their matcha drinks, obviously
Urban Veg Kitchen - for pretty much everything on the menu (pizza, burgers, bowls, choc-chip cookies served with warm almond milk)
Uma Temakeria - for big burrito-style sushi rolls
00 + Co. - for gourmet vegan pizzas